down 1.2 lbs. this week
. Considering I didn't follow WW except for maybe half the week, I'm happy (well, content) with this. I think the Tower of Terror 10-Miler had something to do with having any kind of loss, the details of which I'll get to in a minute. But I've lost 5.2 lbs. in five weeks. Which is awesome, generally, but I can do a LOT better - especially at this higher weight I'm at now. I'd really love to be as close to my "normal" weight range (130-135) as possible by the wedding. I realize that's asking a lot, as I'd have to lose like 1.5 to 2 lbs. a week to hit it. I know I can do that but the bridal shower, bachelorette party, holidays, etc. are all very real hurdles I will have to consider while at the same time making sure I have a good time. All that on top of the stress of the wedding and this new job and aaccckkkk. I need you guys' encouragement now more than ever, so anything you can offer up would be great.
Anyway, the race was actually amazing. I almost skipped it... :[ I have been having on-and-off stomach pains - likely from stress - and they were REALLY bad the afternoon of the race. But Josh calmed me down a bit and I rested and took it easy, and the pains went away just in time, thankfully.
So glad I went because I had a blast, which I attribute to the nice weather and the fact that I got my favorite medal I've received from a race so far:
It glows in the dark, and the little elevator moves up and down on a spring. Yesssssss. ToT is my favorite WDW attraction, so it's extra cool for me. It's hanging nicely amongst my other medals - way too many of which are runDisney medals, with my marathon medal right in the middle. :o)
I also somehow managed a sub 12:30/mile pace, which is faster than my current 5K or even like, two-mile pace, so whatever. I guess my adrenaline was high and, like I said, the weather was gangsta. Low humidity, a breeze here and there, 71 degrees when we started and like 68 when we finished. It was pretty much a 24-hour nice-weather phase that is now gone but I don't even care. I will take it, universe. Thank you, universe.
Anyway, here are a few more photos of me with my buddy Liz (
lizblizz
) and Josh before the race, and Liz and me after the race.
Liz did freaking awesome! Killed her time by something like a half hour over last year? She is also down 25+ pounds since the beginning of the year. Look at this:
Gorgeous either way but still very motivational and so awesome. ♥ You rock, Liz. Give me some of your motivation juice.
My goal this week is to STICK TO PLAN - count everything and
stick to my workouts
! The only thing I will most likely skip is my 5K run on Saturday, because we're going to Halloween Horror Nights the night before and have a full day of fun stuff planned Saturday. But that is known ahead of time and I'm OK with it. I'm doing a longer run Sunday evening, and that is non-negotiable.
Speaking of HHN and fun things, these are my challenges this week. HHN I know like the back of my hand: Pack snacks but make sure to eat beforehand because the D-bags at security will likely tell me I can't bring them into the park. HOWEVER, this year I have a plan to tell them I am gluten intolerant. That's common enough now for me to totally get by, I think - especially because last time they asked me if I had a medical reason and I said NO, DO I HAVE TO!? all pissed off. So this time I'll be ready. And if not, Richter's Burger Co. or whatever that restaurant is has shitty salads and I'll just chug water all night. NO DRINKING.
Saturday we're going to Sweet, our wedding-cake (well, cupcake) shop. *shoots self* It's only to finalize our order, though. There will be cupcakes lurking behind me, but they're behind a glass case
of emotion
, so it's safe. Or something. We're going to this yearly fall pumpkin patch (!!!!) and carnival after that. There isn't anything super tempting there, though I may get an (iced) light pumpkin-spiced latte from Starbucks to take over. I'm very white and IDGAFFFF.
Josh and I signed up to do the
Lake Eola 5K
the Saturday before our wedding. I considered doing the OUC Half Marathon that same day (it's part of the same series), but with my luck I'll injure myself, so I decided to play it safe. I have the Princess Half in February to look forward to, but yeah, watch me injure myself at this 5K anyway. Knock on wood.
Nothing else to say, really. I'll be blabbering about shower-food fears soon enough, so get ready for that excitement.
So I'm
I'm three weeks into this new job and it's going pretty well. I had orientation last week and I have in-depth product training next week, so right now I'm twiddling my thumbs a little...but that's not such a terrible thing, especially considering we have a quarterly software release tomorrow. The next one is Dec. 26, errrrrr.
Anyway, work talk is boring. Let's talk about health things.
I ran/walked a 15K Saturday, woohoo! It rained the whole time which surprisingly made the experience a lot more pleasant than it probably would've been otherwise. It wasn't heavy rain but more than a drizzle, and constant. It cooled things down immensely, and I finished without wanting to die, which is a big plus. I did not expect to even finish let alone finish in one piece, so I can't complain. I ran with a girl from my old Galloway group, Bree. Super sweet. I'm running six miles with the group early Saturday morning and I'm really excited to see everyone again.
THENNNN the
Tower of Terror 10-Miler
is next weekend, ack! I'm more excited than nervous because I've never run this one and I love nighttime races. I say "races," but the only other nighttime race I've done is the Wine & Dine Half, which has been my favorite Disney race so far - maybe even my favorite race in general. Lots of fun. I'm worried about the heat and humidity though...my friend Liz (
lizblizz
) did it last year and is doing it this year too, and she said last year it was REALLY hot and humid, bleh. The Wine & Dine is the first weekend in November, so it is usually pretty mild by then. Weather.com is saying 87 degrees is the high for Oct. 4 so I hope that goes down and the humidity stays at bay. Bleh.
Speaking of Disney, we're going to the
Epcot International Food and Wine Festival
this Sunday. Hanson is playing, yessss, I am going to see all three of their sets. Which will probably be almost the same songs but I don't care. I'm also packing a salad for lunch and a sandwich for dinner plus some snacks, but I pre-tracked
some of my favorite dishes
:
- CANADA: Seared Rainbow Trout with Bacon, Frisee, and Maple Minus 8 Vinaigrette (6 PP)
- BELGIUM: Belgian Waffle w/Warm Chocolate Ganache (8 PP)
- FRANCE: Tartlette Aux Escargots (9 PP)
- IRELAND: Lobster and Seafood Fisherman's Pie (6 PP)
TOTAL: 29 PP
I also really want the baklava but it's 10 PP and not worth it. I will bring a sweet treat with me so I'm not tempted. Anyway, I tried to piece together the ingredients and estimate as best I could, so we'll see. Between the gym yesterday, my run tonight, my 6-mile run Saturday, and walking all day at the parks Sunday, I should still have all 49 of of WAPP at the end of the day Sunday. That is my goal, and to hit it super hard Monday and Tuesday to get an amazing loss Wednesday.
I'm really proud of myself. I was going to go into Sunday with just my lame sandwich and snacks but I KNOW I would've felt deprived. And honestly, maybe I
shouldn't
eat anything there, but I think I can and still lose a really good amount this week. So why not? The catch is just that I have to be really on the ball the rest of the week.
My Halloween costume came in! It's this...
It actually fits me right now but it's snug. So in a month I expect it to look amazing. :o) Mels and I are going to Mickey's Not So Scary Halloween Party on either Oct. 24 or 26. I'M EXCITED, I've never been. So I'll wear it then and also to work and any parties we go to. With pantyhose, obviously. The slit isn't too crazy on, but...eh. The children. My wig came in too and it looks like it'll work nicely. I almost bought an Olaf-shaped candy bucket to bring to Disney but decided against it because I the last thing I need is candy-collecting container. We will steer clear of the trick-or-treat areas, thank you.
I bought this dress today because it was on sale and I've had my eye on it for a while:
I got it in the Medium and am planning to wear it for my bachelorette party in Vegas the weekend of Nov. 22. I can't wait.
So I've been going back to Weight Watchers meetings for three weeks now. I'm down 4 lbs., which is nothing to sneeze at, but I know I can do better. Currently, I'm at 148.4 and I know 120 isn't going to happen by the wedding. It's 11 weeks away and um, yeah. So my new goal is 130. That is still something I will have to hustle for, BUT I'm almost positive it'll get me into my dress and I know I'll look and feel great. Then after the honeymoon I can drop the last bit. Honestly, at 120 I feel like the dress might be too big on me, so maybe this is a blessing in disguise. Hooray justification.
Needless to say, I have some work to do - especially since, if you want to get technical, it's more like 15 and a half weeks. And in those 15 and a half weeks, there are some pretty serious challenges, including but not limited to:
- holidays (Halloween and Thanksgiving, namely, and the events surrounded those)
- my bridal shower and bachelorette party (VEGAS!)
- my good friend's wedding
- the Tower of Terror 10-miler, which I am VERY behind in training for
This is obviously not a comprehensive list, but you get the idea. I am currently hovering around my highest weight ever, which is not a great thing. But you know what? I'm going to give it everything I have, and wherever that gets me is where I'll be on the day I get married. My ultimate goal is still in the 120 lbs/size 4 range, but that might come later if my body says so.
What I know now is that I want to be like this guy:
http://beforeandafterweightloss.tumblr.com/post/78771803698/how-to-lose-a-lot-of-weight
Granted, I don't have 300+ pounds to lose, but issues with food are issues with food. If that amazing man can work up the inner strength to get up every morning and jog in place, then so can I. There is absolutely NOTHING holding me back except myself. No one is forcing me to eat garbage, or sleep in instead of run. No one is requiring me to complain about how hot it is outside, or take the elevator instead of the stairs. My brain is the culprit, and it's time to reprogram that bitch.
I'm starting a new job Tuesday. I'm the editor of a book on the New York Times Best Seller list. I am marrying the most awesome man ever. And I deserve the body I want.
So it's time to get it back.
16 weeks. That is how long I have until I'm walking down the aisle to marry my best friend in the whole world. I'll be doing it in a size 6 wedding dress I've already purchased - one with a 10-inch-long zipper that I still have about four to five inches to go on until it zips up all the way.
(
Weigh-In Stats: Week 1
Collapse
)
Aaaaand the damage.
(
Food Log: Week 1, Day 7
Collapse
)
(
Food Log: Week 2, Day 1
Collapse
)
(
Food Log: Week 2, Day 2
Collapse
)
(
Food Log: Week 2, Day 3
Collapse
)
First the good:
1. I'm not nearly as over on my WAPP as I was last week. So that's a win.
2. My nighttime snacking has gotten a LOT better.
3. I have been very good about both counting/measuring what I eat and getting my workouts in.
4. I somehow lost weight (albeit a little, but still, SOMETHING).
5. I am skipping a post-work function where there will be lots of beer and food to go to the gym.
Now the bad:
1. I had a peanut-butter binge at work a little bit ago.
2. I'm still going over my WAPP. :-/
Hm. Honestly that's really it. I'm not too upset with how I've been doing in general. I mean, I feel kind of down, but then I realize I had treats yesterday and still managed to keep myself in check. That's a win. Today hasn't been great so far, but I know that is going to happen from time to time and I just need to accept that and move forward. Same with Saturday - it was shitty, but we had a party and I counted all that shiz. Not ideal, but better than saying F it.
I didn't have a great day yesterday in general, both work wise and personally, so I feel like it was a big NSV that I didn't go over my DPP. I still have a ways to go, but I'm confident I'm making some mental (and hopefully physical) progress. I'm on W3 of the C25K program and it's kicking my ass. Still can't believe how out of shape I am, but hopefully soon I'll start to feel like some semblance of an athlete again.
Oh another NSV: Went to Dixie Crossroads in Titusville for lunch with Josh, my mom, and my aunt and uncle. Everyone got fried stuff, but I resisted the fried corn fritters and had a glass of beer, a pound and a half of crab legs without butter (even though they brought butter when I didn't ask for it and it spilled all over the plate...), veggies, and about half a sweet potato. I had a couple bites of things, but I'm really proud I was able to stay in control because some of that fried stuff looked legit. The crab was cooked PERFECTLY, though, so that helped.
I don't have any other real food challenges the rest of the week, so I'm going to strive to stay within my DPP these next three days (because it isn't happening today) and get my workouts in. Friday we're going to Jacksonville for Mother's Day/Josh's mom's birthday, so I will need to come up with a game plan for that soon.
Hope everyone is having a great week!
I couldn't think of a witty title, so there it is.
(
Food Log: Week 1, Day 6
Collapse
)
All hell broke lose inside my mouth yesterday. I could not stop eating cake. Cream-cheese icing is my enemy. My pants today are tighter than ever and I hate myself a little.
HOWEVER, I still dragged my ass to the gym with Liz and did about an hour of strength work. Realistically, that was closer to 40 minutes with rest and whatnot, which is why I only counted that much on my tracker.
All the icing and cake are estimates because I really have no idea. My first piece was very small, but then I had gobs of things. I regret it. It was yummy but really not worth it considering my weigh-in tomorrow. I've been very good today though and managed not to snack last night
probably because my body has enough sugar reserves in it for two full months
, so those are wins I guess. Chugging water today, going to hit the gym for a C25K workout after work, and cross my fingers to at least maintain my weight in the morning.
Weekend challenges: Derby party (which I am doing the shopping/snack layout form so really there is no excuse) and lunch Saturday at Dixie Crossroads, where they have seafood and vegetables. So again: no excuse. INO!
Hope everyone has a great weekend! XOXO
(
Food Log: Week 1, Day 5
Collapse
)
So I did really well yesterday...except at 2 a.m., when I got up and ate two bowls of cereal. :-/ Not my finest moment, and I didn't measure either so those are estimates. Today isn't going super well...I had a small piece of cake (it had cream-cheese icing, so I was doomed from the start)...but I've tracked my lunch, snacks, and dinner, and I'm going to the gym with Liz after work again. So I'm hoping my body is a little forgiving of last weekend and that I lose SOMETHING Saturday.
I'm currently texting Liz right now, and we're comparing our levels of soreness. Her arms are feeling it but neither of us are sore leg wise. I told her we're doing squats and lunges tonight to fix that, hah. I'm also doing either W2D? of C25K or W3D1. Haven't decided yet. Thinking I might go for the latter. Also want to work more on abs and arms, so tonight might be closer to an hour and a half visit considering I won't be back to the grind until Sunday.
I started making the grocery list for the derby party to make sure I have healthy snacks/drinks on hand. Josh and I are meeting my mom for lunch at Dixie Crossroads in Titusville on Sunday. I already looked at their menu and they have grilled options and veggies, thankfully.
Bobby (my brother) is super into his DDP Yoga program, which is really cool. We don't have a whole lot in common generally, so it's nice to share the health-and-fitness interest. We were texting each other some encouragement last night. He also texted me something that probably seemed pretty whatever to him but to me it really spoke to me: In the middle of our conversation, I texted, "We should text to motivate and encourage each other," and he replied, "We are."
This made me pause and think of how much I do vs. how much I say/plan. Like right now at this very instant I can be making a difference in my life, but WAY more often than not, I choose to plan the change or put it off until tomorrow. That simple two-word reply helped me immensely in that sense.
(
Food Log: Week 1, Day 3
Collapse
)
(
Food Log: Week 1, Day 4
Collapse
)
Needless to say I've been controlling myself for the most part the past couple days. Now that the chocolate is out of the apartment and the peanut butter has been soaped and disposed of, I've made my environment a little easier to deal with. Sad but true that I need that, but I can either feel weak or see the acknowledgement of the weakness as actually a strength and move forward. I'm going with the latter because the former obviously hasn't been working for me.
So a big NSV Monday: I actually stuck to my dinner and snack plans and didn't use Disney (where I got to visit briefly with George/
hekidanjo
and his wife Doreen!) as an excuse to stuff my face with things I didn't need. Plus I got walking points, which is a nice bonus.
Last night, Liz (
lizblizz
) and I went to Planet Fitness. We did 20-30 minutes of weights/machines and then she did 30 minutes of elliptical and I did C25K W2D...4? IDK, I'm doing the second week twice. Tomorrow is my last day, and then Week 3 will start Saturday; my friend Mels is going to come to the gym with me then. And tonight is yoga with my friend Kinsey. It's nice to have fitness buddies, so we can motivate each other.
Josh and I are hosting a small derby party this Saturday at our place, so I need to be prepared for that. Luckily Mels will be there and she doesn't really drink/is trying to be healthier too, so we can help each other stay on track. I'm definitely thankful for that. I honestly don't need to drink.
Not a whole lot else to say, really. I'll be back tomorrow.
(
Food Log: Week 1, Day 1 (with a surprise encouraging text photobomb from Laura)
Collapse
)
(
Food Log: Week 1, Day 2
Collapse
)
Before you all yell at me (and you should), let's discuss the positives:
1. I worked out Saturday. FOR LIKE AN HOUR. Bonus: My running endurance was noticeably better, and even though I'm sore I don't want to jump off a bridge or chop my limbs off from the pain. Progress.
2. I poured soap all over the rest of the peanut butter in my cabinet.
3. I gave the other bag of M&Ms to my coworker. They were BOGO. I'm thrifty. STOP YELLING.
4. It's shark week so I'm sensitive.
5. It was my aunt's 50th birthday Sunday.
6. My friend Alexis hoards holiday candy in her freezer and said, and I quote, "HELP YOURSELF. She also had Spring Oreos just ~lying around~.
7. I counted EVERYTHING, even though a few things were estimates...
8. I'm great and making up excuses. And lists.
9. I will do better this week.
10. I cannot deal with the fact that there were going to be nine items on this list so here's an extra.
Case in point: My dinner, discussed in the subject line, AND the fact that I have zucchini and grapes packed for snacks since I'm going to Disney in a few minutes.
No but for real, I was like LOL JEN HERE ARE SWEETS, YOU CAN CONTROL YOURSELF, RIGHT?
Obviously I cannot. So, lesson learned for the 32847238th time. One day. One day.
It was hot as balls in the office this morning. Glad I brought a change of clothes for Disney because we were allowed to wear shorts. Aw yeah son. That had nothing to do with weight loss or fitness, but it was the most exciting part of my day, so...
I don't have time to write much else, but I'm stoked because Liz is joining me at the gym tomorrow (and maybe Thursday?). Yoga with Jen Wednesday aaaaand we're having a derby party this weekend, so I need to plan for that. STAYING OP THE REST OF THE WEEK.
So let's just get these shenanigans out of the way, shall we?
Current Mood:

silly
So I went back to my meetings today. Asked very nicely for the receptionist to change my start date to today and restart my stats, and she was happy to. Says she's been there and that she understand, which was nice to hear!
So with that being said, here are the highest my numbers will ever be again
until I have a baby at least
:
(
Initial Weigh-In Stats, Measurements, etc.
Collapse
)
You can always see my stats, goals, and whatnot
here
. I'm going to take my measurements and reassess my sizes and such every four weeks. I'll start posting my daily PointsPlus Trackers/logs tomorrow. I also had Josh take "Before" pics, but I'm not sharing those because they're of me in my underwear.
Anyway, the meeting went well. Said hello to my Leader. The topic was on focusing on your meals. She gave the example of looking down at your plate when you're doing something otherwise distracting (like watching TV) and realizing your food is gone and being convinced the dog took it. Well, this happened to me just last night, and my cat definitely had nothing to do with it sooo I could relate. I bought the May/June issue of WW Magazine on Laura's suggestion: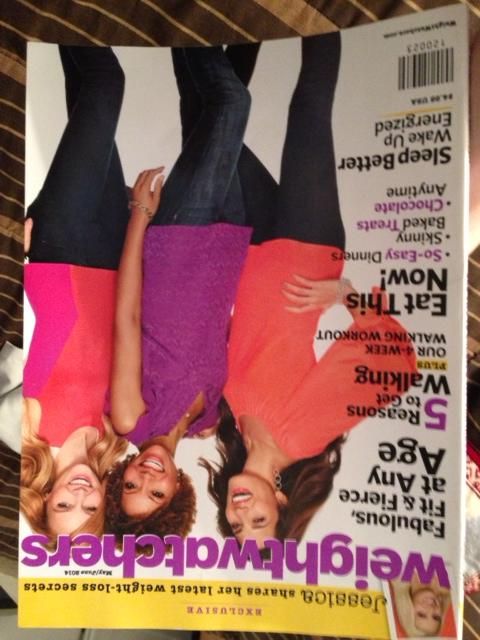 I'm excited to dig into it tonight and get some new recipe ideas and get motivated by the success stories. I went to the farmer's market and to Publix today, so I'm all set for the week. Even washed, prepped, and chopped all my produce to make it easy.
NSV: Went to the gym with my friend Kinsey today and did roughly 30-45 minutes of strength work (abs, legs, AND arms, bitches!) and Week 2, Day 1 of the Couch to 5K program. I was technically supposed to start Week 3 today, but I didn't think I'd be ready. I am though, so that was a nice surprise. I really think the core workouts I've done over the past few weeks have helped my running endurance. :o)
Tonight we're having tilapia, broccoli/cauliflower, and quinoa for dinner. I'm skipping the quinoa because I may have had too many pretzel M&Ms (BUT I MEASURED THEM). Goal is to end the day without dipping into WAPP which, for me, is a feat - especially on a Saturday. I'll use some of the 5 APP I earned today, but maybe not all. We'll see.
Tomorrow we're helping our friend Alexis move. I'm going to have breakfast before we go and bring my lunch, since I know she is serving pizza and beer. :p Going to Daytona in the evening for my aunt's birthday, so the plan is to have dinner beforehand and bring some snacks along. It might be odd because I'll be coming around dinnertime, but hopefully not.
So I bought this book:
The gist is that it's very similar to the Whole30, paleo, etc. plans. I'm not anywhere near ready to do it yet, but Josh said he'd do it with me this summer. We'll probably start in early or mid July. I'm terrified - I'm SO addicted to sugar. But I know this will help me and I need to remember that when it gets really tough.
I know this entry isn't particularly fun or interesting, lol, but I just kind of had to do an info dump. Not in the writingest mood. Off to make dinner and watch a movie. I'll post tomorrow night if I have time but, if not, you'll be getting two food trackers Monday!
I can't believe this is actually on YouTube.
Current Mood:

determined
Turns out I was a little less ready than I thought. Going to hit the gym today through Thursday and have my real initial weigh-in Saturday. I'm down but not out...I'll be back in a few days.